A government hospital costing RM500 million will be built in the vicinity of Autoville in Cyberjaya, Selangor within the next two years, says Treasury secretary-general Tan Sri Dr Mohd Irwan Serigar Abdullah. He said the bidding documents for the project were being prepared by Cyberview Sdn Bhd, a government...
Read the full story »
MAKING A DIFFERENCE
A young doctor who performed surgeries on two children diagnosed with hydrocephalus under adverse conditions has been lauded by the Kaohsiung Medical University Hospital. Wang Tse-lun 33, said he was working with a group of medical volunteers in the Solomon Islands in November last year, when local physicians...
Read the full story »
SPECIAL FEATURES
New Products & Technology
Covering everything from remote controlled hospital beds to oxygen therapy and aerosol masks, last week's Arab Health exhibition in Dubai was busy. Wamda partner, GE had a presence there, with digital, big data... More »
---
Health Alert
The Health Ministry today announced a ban on a whitening product from popular cosmetics line, Qu Puteh after it was found to contain harmful substances. Its director-general, Datuk Dr Noor Hisham Abdullah, in a... More »
---
2016 Nursing & Healthcare Events
Featured Headlines
DOCTORS, nurses and patients at the University Malaya Medical Centre (UMMC) have been left high and dry after a vital direct bus service from Kuala Lumpur to the hospital in Jalan Universiti was stopped. This followed the...
KUALA LUMPUR: AmInvestment is retaining its Hold call on IHH Healthcare Bhd with an unchanged sum-of-parts based fair value of RM7.20 a share. It said on Wednesday it remains upbeat on IHH's newest hospital, Gleneagles Medini...
GEORGE TOWN: MQ Technologies Bhd is targeting to return to the black this year with its new venture into the medical equipment business. Group executive director Teh Eng Huat told StarBiz that the group was targeting to produce...
International News
Surgery patients do better when nurses have better working environments, according to a new study. Hospitals with well-staffed, top-notch nursing departments had fewer deaths after surgery than hospitals without...
Education News
Majlis Amanah Rakyat (Mara) will not stop sponsoring students to study abroad despite the current economic challenges faced by the country. Rural and Regional Development Deputy Minister Datuk Ahmad Jazlan Yaakub said...
Pharmaceutical
Five hundred Hepatitis C patients are involved in a clinical study on the effectiveness of a combination of existing drugs. Health Minister Datuk Seri Dr S. Subramaniam said the clinical study was being conducted by...
Business & Investments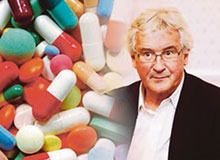 KUALA LUMPUR: The implementation of the Trans Pacific Partnership (TPP) pact should pave the way for positive growth for the pharmaceutical industry in Malaysia, said Guardian Malaysia chief executive officer Peter...