Thousands of unemployed nursing graduates in the state may find a solution for their predicament soon.
Assistant Minister of Public Health Datuk Dr Jerip Susil said the government has worked out a solution together with a private consultant firm and former state matron.
MAKING A DIFFERENCE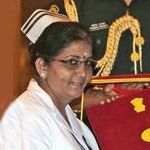 Kalpana Sampath, Assistant Nursing Superintendent, JIPMER Hospital, Puducherry, has been honoured with National Florence Nightingale Award on the occasion of International Nurses Day organised recently at the Rashtrapati Bhavan, New Delhi. Ms. Sampath was among the 35 nursing professionals in India who were presented awards by President Pranab Mukherjee....
Read the full story »
SPECIAL FEATURES
New Products & Technology

The UAE's rapidly growing population, thriving tourism sector and growing prevalence of lifestyle diseases are placing an increasing strain on medical institutions to provide quality health care to a growing number of patients. Over the past decade, the UAE has become a booming... More »
---
Health Alert

KUALA LUMPUR - Treating hysterical attacks with the use of an anti-hysteria kit "to drive out evil spirits" is confusing society, according to the Malaysian Psychiatric Association (MPA). MPA president, Professor Dr Nor Zuraida Zainal said managing hysteria attacks without... More »
---
Featured Headlines
When patients are faced with difficult health circumstances and have to make decisions that will affect their lives, it is common for them to have that tingling feeling that one doctor's opinion might not be enough. Should I seek a second opinion? How do I can it...
MANY Ipoh folk, especially those in the low-income group, are appreciative that more 1Malaysia clinics have been set up in the city. This is even more so with the rising cost of living after the Goods and Services Tax (GST) came into effect. At the Bercham clinic, which ...
ROTARY Club of Kelana Jaya and the Rotary Club of Port Klang jointly organised an annual medical outreach programme at SJKC Pandamaran A in Klang to give the public access to free health checks and treatment. Da Ma Cai participated as partner, contributing RM5,000 worth...
International News

The strong turnout at Careers in White, an international jobs fair for health workers last month in the Croatian capital, was good news for organisers but poses a headache for the newest member of the European...
Education News
One of the significant moments in the history of Assunta Hospital in Jalan Templer, Petaling Jaya is the opening of the Assunta School of Nursing in 1961, after the hospital was launched the same year. Now called...
Pharmaceutical

Acting on its pledge to let the market play a bigger role, made at a key policy summit in November 2013, China has been removing state-sanctioned price controls in several sectors over the past year, the latest...
Business & Investments

BUKIT MERTAJAM - The medical needs of mainland residents will be better served when the Seberang Jaya Hospital's new RM400mil multi-storey building is completed in 2018, said Deputy Prime Minister Tan Sri...